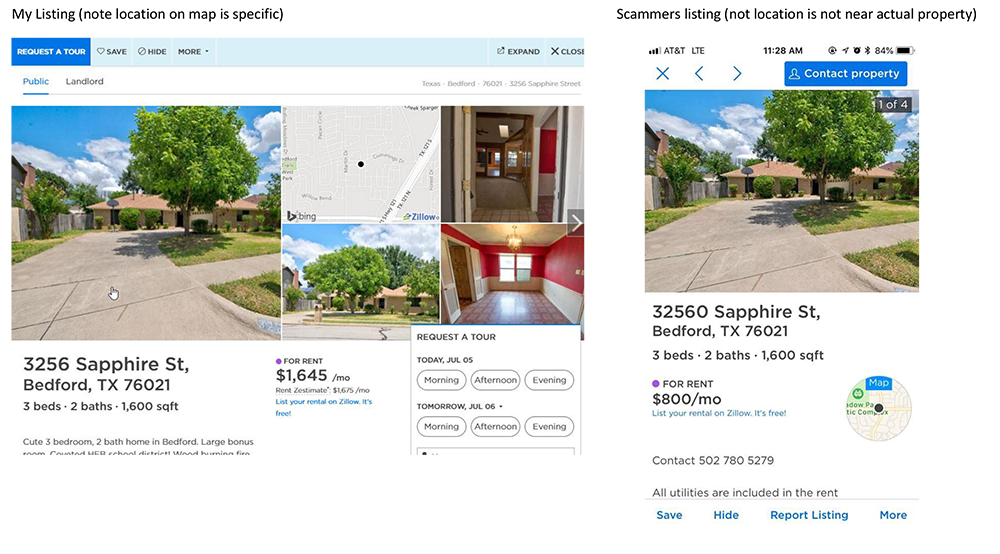 I recently had a scammer duplicate one of my listings on Zillow. He posted it early on a Sunday morning. My opinion is that he knows that Zillow does not respond to notifications of false listings either through their app or email on Sundays and this scammer was able to have his fake ad read by many people for over 24 hours. He copied my listing photo for his advertisement (the only photo included) and advertised that the rent, which was half the amount, included all bills paid.
Here are some things that should raise a BIG red flag when you are searching for rental property:
There is only one picture on the advertisement of the front of the house.
The rent amount seems too good to be true.
The landlord is out of State.
You are only able to text, not talk to the Landlord.
You are not able to tour the property before making a deposit.
The landlord requests that you send money via Western Union, MoneyGram, or on a gift card.
The landlord requests that you send money to his secretary, friend, brother, etc. who is in a different State than he claims to be in (and he has a creative explanation).
The landlord says he is a christian, family man, all-around good guy to make you trust him.
If you see any one of these on the list above you need to do further research before you send any money to make sure you aren't being scammed.
Here are some things you can do to protect yourself:
Look up the tax records for the property. Does the owners name match the name of the person you are talking to?
Research rental rates for properties near the one you are viewing. If this is a similar property to those around it and it's renting for half as much something isn't right. Go to the next step.
Google the address. Does the address actually come up on the map? Drive to the property. This scammer used 32560 Sapphire St when the actual address was 3256 Sapphire. Tricky. How does Zillow allow a listing to be posted for an address that doesn't exist?
When you get to the property is there a For Lease sign posted? If yes, does it have the Landlords name and phone number on it? If no, call the number on the sign and inquire about the property.
Hire a real estate agent to help you find a rental property. Not only can they verify the accuracy of the listing, they can schedule showings of multiple properties that fit your requirements in one day, saving you the time and hassle of attempting to do it yourself.
Pay security deposits and first months rent with a cashier's check or money order. NEVER EVER pay with cash, MoneyGram, or Gift Cards.
I have included pictures of the two Zillow listings side-by-side in an attachment so you can see the differences. I reported this scammer to Zillow, and after 24 hours the listing was pulled, but the damage had already been done. I heard from at least one person that had sent this guy money. I called the local police but have not heard back from them. My guess is the dollar amount of this crime is not worth their time. The saying "if it seems too good to be true, it probably is" fits this situation perfectly. Be careful out there. Hopefully this information helps someone from getting scammed.